Fibre is an essential part of a healthy diet and plays a crucial role in better gut health, protection against heart disease, reduces blood pressure, reduces diabetes risk, normalizes bowel movements, and helps maintain weight.
Fibre includes nonstarch polysaccharides, such as cellulose, dextrins, inulin, lignin, chitins, pectins, beta-glucans, waxes, and oligosaccharides.
There are two types of fibre – soluble and insoluble.
Most high-fibre-containing foods have both insoluble and soluble fibre, so people do not need to think much about the difference. Instead, they can focus on overall fibre intake.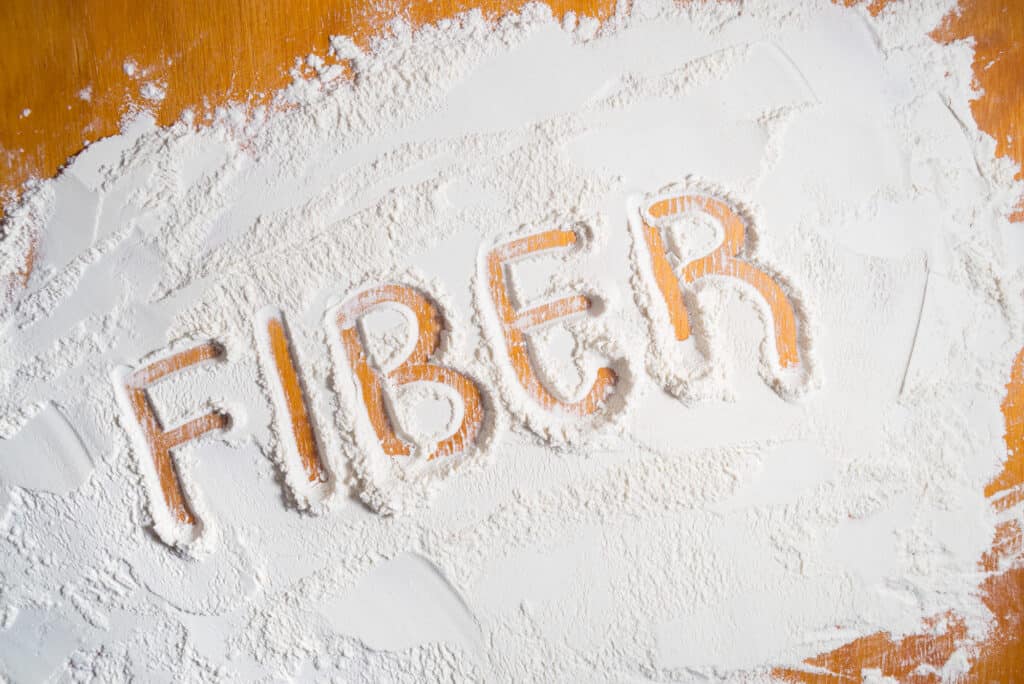 SOLUBLE FIBRE
Soluble fibre dissolves in water and forms a gel-like substance in the stomach. Bacteria later break the gel down in the large intestine. Soluble fibre provides some calories to the individual.
Soluble fibre provides the following benefits:
lowering LDL cholesterol in the blood by affecting how the body absorbs dietary fat and cholesterol
slowing absorption of other carbohydrates through digestion, which can help regulate blood sugar levels
Good sources of soluble fibre include:
beans
fruits
oats
nuts
vegetables
INSOLUBLE FIBRE
Insoluble fibre does not dissolve in water and passes through the gastrointestinal tract, mostly intact. It does not provide calories.
Insoluble fibre helps build bulk in the stool, helping a person pass stool more quickly. It can also help prevent constipation.
Good sources of insoluble fibre include:
fruits
nuts
vegetables
whole grain foods
Recommended intake
According to the Academy of Nutrition and Dietetics, the recommended intake of dietary fibre in a 2,000 calorie diet is:
25 grams (g) per day for adult females
38 g per day for adult males
People need less fibre after 50, at around 21 g for women and 30 g for men. Women should aim for at least 28 g per day during pregnancy or breastfeeding.
Dietary sources
Plant-based foods are an excellent source of dietary fibre. Some types have more fibre than others.
The following are some examples of their fibre contents:
| | | | |
| --- | --- | --- | --- |
| Food | Serving size | Calories | Dietary fiber in g |
| High fiber bran (ready-to-eat cereal) | ½–3/4 of a cup | 60–81 | 9.1–14.3 |
| Chickpeas, canned | 1/2 a cup | 176 | 8.1 |
| Lentils, cooked | 1/2 a cup | 115 | 7.8 |
| Pinto beans, cooked | 1/2 a cup | 122 | 7.7 |
| Black beans, cooked | ½ a cup | 114 | 7.5 |
| Lima beans, cooked | 1/2 a cup | 108 | 6.6 |
| White beans, canned | ½ a cup | 149 | 6.3 |
| Kidney beans | 1/2 a cup | 112 | 5.7 |
| Wheat bran flakes (ready-to-eat cereal) | 3/4 of a cup | 90–98 | 4.9–5.5 |
| Raw pear | 1 medium fruit | 101 | 5.5 |
| Baked beans, canned, plain | 1/2 a cup | 119 | 5.2 |
| Avocado | 1/2 a cup | 120 | 5.0 |
| Mixed vegetables, cooked from frozen | 1/2 a cup | 59 | 4.0 |
| Raspberries | ½ a cup | 32 | 4.0 |
| Blackberries | 1/2 a cup | 31 | 3.8 |
| Collards, cooked | 1/2 a cup | 32 | 3.8 |
| Sweet potato, baked in skin | 1 medium vegetable | 103 | 3.8 |
| Popcorn, air-popped | 3 cups | 93 | 3.5 |
| Almonds | 1 ounce (oz) | 164 | 3.5 |
| Whole wheat spaghetti, cooked | 1/2 a cup | 87 | 3.2 |
| Orange | 1 medium fruit | 69 | 3.1 |
| Banana | 1 medium fruit | 105 | 3.1 |
| Oat bran muffin | 1 small muffin | 178 | 3.0 |
| Pistachios, dry roasted | 1 oz | 161 | 2.8 |
| Pecans, oil roasted | 1 oz | 203 | 2.7 |
| Quinoa, cooked | half a cup | 111 | 2.6 |
References:
1.Medical News Today https://www.medicalnewstoday.com/articles/146935#types-of-fiber
2. Better Health – https://www.betterhealth.vic.gov.au/health/healthyliving/fibre-in-food
3. Mayo Clinic – https://www.mayoclinic.org/healthy-lifestyle/nutrition-and-healthy-eating/in-depth/fiber/art-20043983